Meet the amazing team we have working at DC Dental Care, PLLC! Our team will always go the extra mile to make sure our patients are comfortable while receiving the quality dental care they deserve. Please contact us today at 202-223-3325 to learn more about dental care in Washington, DC, and to schedule an appointment with our dentist, Dr. Jean Joh.
Meet Our Dentist!
Dr. Jean J. Joh started her educational career as a National Merit Scholar at Emory University, receiving her Bachelor of Science (BS) in biology and her Bachelor of Arts (BA) in chemistry with a minor in mathematics. She continued her education at Columbia University in New York, where she completed her Doctor of Dental Surgery (DDS) degree. After obtaining her dental degree, she completed a general practice residency at New York Hospital-Queens. After residency, Dr. Joh worked as an associate dentist in New York, Buffalo, Fayetteville and Alexandria before settling down in Washington, DC. In addition to the District of Columbia, she holds licenses in Virginia, New York, Florida and North Carolina.
On a personal note, Dr. Joh is married with two young children. In her free time, she enjoys traveling, taking spinning classes and exploring the diverse cultural aspects that our area has to offer.
Meet Our Team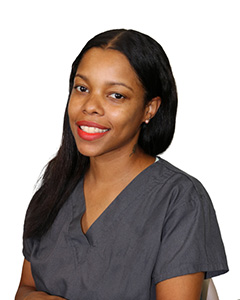 Benita May
Dental Assistant
Benita graduated from Nova in 2007 as an expanded functions dental assistant then went on to graduate from the dental hygiene program at Fortis College in 2009. She joined the DC Dental Care team in 2019. She enjoys talking with patients and helping them achieve their smile goals. Benita assists the doctor and makes sure she has everything she needs, while keeping patients comfortable while they receive treatment. She volunteers twice a year at Howard University and with Team Smile USA.
Benita is married and has three children: two boys and one girl. When she is not working, she enjoys talking walks, cooking, bowling, playing basketball, skating and visiting with family members.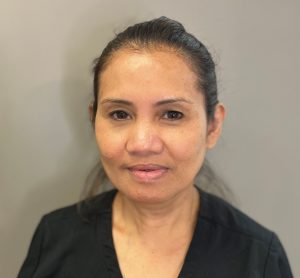 Carroll Miller
Dental Hygienist
Carroll graduated from Howard University as a registered dental hygienist. Her favorite part about her job is seeing how friendly everyone is and getting to work with high-end dental technology. She loves working with a talented dentist like Dr. Joh and enjoys delivering long-term comprehensive treatments to all of her patients. She uses a caring and compassionate approach to ensure the comfort of her patients. She has two daughters and one adorable grandson. In Carrol's free time, she enjoys reading, walking, hiking, spending time with family, travelling and going out to try new restaurants in the DC area.